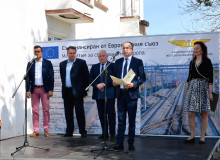 By the end of 2020 the modernization of the 23-kilometer railway line between Sofia and Elin Pelin should be completed, announced the Deputy Minister of Transport, Information Technology and Communications Velik Zantchev at the ceremony for the launch of construction works along the section. He added that over 130 million levs are invested in the project, 115 million of them are provided under Connected Europe Facility.
Deputy Minister Zantchev pointed out that last year some 1.8 million passengers travelled along the line. "Following the completion of the project we will ensure highest level of safety and security and also reduce travel times. The project envisages the modernization of the railway lines, construction of new signaling and telecommunication systems, as well as renewal of the overhead lines", clarified Velik Zantchev.
"Within the framework of another project financed under OP Transport and Transport Infrastructure, we will modernize the railway stations of Poduyane, Iskar and Kazitchene along the same line", commented further the Deputy Minister. The total amount of funds for railway projects by 2020 goes over 2.5 billion levs with national co-financing. "After the completion of all priority sections by 2023 we will have the first high-speed railway highway from the Serbian border to the port of Bourgas, as well as the Turkish and Greek borders", added Mr. Zantchev.
Concerning the purchase of new rolling stock, Velik Zantchev clarified that following the delivery of the new carriages and the modernization of the infrastructure, Bulgarian railways will reach average European level. He further explained that in a month and a half a tender procedure is to be announced and by the end of terms of office of the cabinet the new trains are to be delivered.