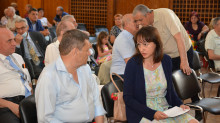 The criteria for qualification of airfields at international airports are ready, as announced by Deputy Minister of Transport, Information Technology and Communications Christina Velinova during a conference on the occasion of the 74th anniversary of the Bulgarian Civil Aviation. According to her, the amendments to Ordinance №20, which determines the requirements for the issuance of airworthiness certificates of "international airports for general aviation services" are ready. The coordination procedures have been completed and the ordinance will be published for public discussion.
"Thus, some small airports, which are currently airfields, if they meet the requirements of the regulations and are equipped with appropriate equipment, will be able to serve international flights of general aviation. At the moment, the sites in Rousse, Lesnovo, Primorsko, Balchik, Kazanlak and Sofia-West have announced their readiness for this", Velinova said.
The Deputy Minister added that the other small airports, which are currently airfields, could be classified as "airports for the operation of flights other than commercial air transport operations, with aircraft with a maximum take-off mass under 5700 kg against or without payment, as well as for the technological needs of the owner without payment". A simplified registration regime will be provided for this group of smallest airports, which will not serve international flights.