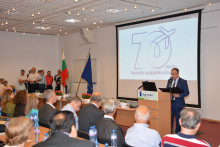 The Deputy Minister of Transport, Information Technology and Communications greeted all the persons employed in the aviation sector. The reason was the 70th Anniversary of the first flight of Bulgarian Civil Aviation. The flight was performed on Sofia-Burgas regular line. The 70th Anniversary event has taken place today at the premises of the state-owned enterprise Bulgarian Air Traffic Services Authority with the Bulgarian Airlines Association (BAA) as an organizer.
The aviation sector in our country has been developing steadily, stated the Deputy Minister Zanchev. The results in the recent years are more than optimistic and show continuous trend of increasing number of serviced passengers and cargo. Our country is becoming a desired destination, which leads to growth in the tourist and business flights. That requires also adequate actions for modernizing the airport infrastructure and improving the services, emphasized the Deputy Minister.
One of the main governmental priorities is the use of concession mechanism for developing the Bulgarian airports. Concession procedure for Plovdiv Airport is being performed at present and we have three offers submitted. I expect the concession procedure for Sofia Airport to start officially in the autumn period. I am convinced that concession is the right approach, which will not only guarantee development for the two airports, but will also ensure investments in the transport infrastructure and its professional operation.
During the ceremony, 116 persons, who contributed for the successful development of the Bulgarian Civil Aviation, were awarded with honorable jubilee sign and diploma.
***
On the todays' day, in 1947 at 10.20 a.m. from Vrazhdebna Airport, aircraft Ju-52 with Captain Nikola Aleksandrov took-off to Burgas Airport.
At 10.35 a.m., second aircraft Li-2 took-off with the officials on board.
It was the first flight of BCA on regular line. The day was adopted for a Birth date of the Bulgarian Civil Aviation.