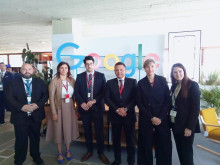 We are ready to work with Google to create data centers in Bulgaria, said the Deputy Prime Minister and Minister of Transport and Communications Hristo Alexiev during a meeting with Google's General Manager for Southeast Europe Peggy Antonaku. The talks were held within the framework of the 8th edition of the Delphi Economic Forum, which is taking place in Greece from 26 to 29 April 2023. The meeting was also attended by the Deputy Prime Minister for the Management of EU Funds Atanas Pekanov.
The representatives of Google stated that they are interested in the Bulgarian market and plan to expand their activities in the region. Peggy Antonakou noted that a data centre is to be opened in Greece. "The IT sector in Bulgaria is developing dynamically and offers very good opportunities. We have some of the best IT specialists, which is a guarantee for the success of such a project," said Deputy Prime Minister Hristo Alexiev. He was certain that for the realization of the planned digitalization of the economy in Bulgaria, it is crucial to ensure reliable and secure data transmission, as well as the construction of the relevant centers. In this regard, during the meeting the preparation of an upcoming visit of the regional manager of the corporation to Sofia was discussed.
Before the meeting, Google representatives at the forum gave a demonstration for the two Bulgarian Deputy Prime Ministers of some of its latest applications.