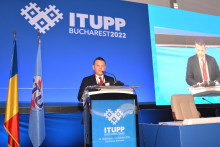 The Deputy Prime Minister for Economic Policies and Minister of Transport and Communications Hristo Aleksiev presented the Bulgarian candidature for a member of the ITU Council - the Union's governing body in the interval between Plenipotentiary Conferences. The ITU is the oldest organization of the United Nations. The Deputy Prime Minister opened today's Plenary at the Plenipotentiary Conferences in Bucharest, Romania, which was dedicated to political statements.
The Republic of Bulgaria is proud to have 142 years of traditional relations with the International Telecommunication Union, stated Hristo Aleksiev to the representatives of 193 countries participating in the Conference. He emphasized that the Republic of Bulgaria has been strongly committed to the achievement of the goals of the organization focusing on the telecommunications development. The Deputy Prime Minister recalled that Bulgaria has been participating consistently in the activities of the ITU and its three Bureaus.
Bulgaria's candidacy for the ITU Council was the main topic of today's meeting between Deputy Prime Minister Hristo Aleksiev and the Secretary General of the ITU Houlin Zhao. The long-standing participation of Bulgaria in the activities of the Union was emphasized during the talks.
The joint willingness of the Deputy Prime Minister Aleksiev and the Minister of Digital Development and Transport of Azerbaijan Rashad Nabiyev to resume the direct Sofia-Baku air-route was confirmed during a bilateral meeting.   
In today's digital universe, we put the individual at the centre, paying attention to the individual and the connectivity between different regions, emphasized Hristo Aleksiev during the social event dedicated to the Bulgarian candidature for the ITU Council. Bulgaria is among the countries in the world with the fastest broadband connections, an achievement we are proud of, concluded the Deputy Prime Minister.