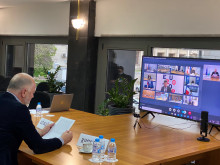 E-applications and high-capacity broadband networks can effectively contribute to overcoming the consequences facing the European economy. This was stated by the Minister of Transport, Information Technology and Communications Rossen Jeliazkov during a video conference of the Telecommunications ministers of the European Union. The main topics of the Council were the consequences of the COVID-19 crisis in the telecommunications sector, the importance of the digital solutions for the EU's recovery and investments in building of new digital infrastructures.
Minister Jeliazkov informed his colleagues about the digital instruments developed in Bulgaria, with which we ensured timely public information on the current situation and the measures taken by the Government. Among them is a mobile application that can be downloaded for free and used on a voluntary basis by Bulgarian citizens, in order to facilitate the diagnosis of COVID-19. According to Minister Jeliazkov, the data usage for tracking and signalling of COVID-19 is a sensitive issue to which our government pays serious attention in order to increase the trust of citizens.
"During the COVID-19 pandemic, digital infrastructure is proving to be the driving force that stimulates all sectors - economy, education, healthcare, public services," the Bulgarian minister said. He emphasized the importance of the European Electronic Communications Code, which we are currently introducing at national level in terms of legal predictability and security in building future high-speed networks, and the need to provide operators with flexibility for new approaches to reducing infrastructure costs.
Rossen Jeliazkov was adamant that with the European Commission's help countries should promote the highest global standards for the protection of European consumers in order to overcome the misinformation associated with new technologies.