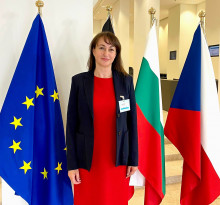 A clear and achievable framework for digital policies and principles is needed by 2030. This was stated by Deputy Minister of Transport, Information Technology and Communications Hristina Velinova during a debate on the Digital Compass for 2030. The discussion took place within the Transport Council, telecommunications and energy ("Telecommunications" format), which takes place in Luxembourg.
Hristina Velinova stressed that the focus should be on how effective the set digital priorities for the next decade and the indicators for their implementation are, are widely recognized by businesses and citizens in the EU and meet their expectations. "Measuring progress should take into account market realities and needs in all Member States, as well as cultural diversity," she added.
High-speed connectivity, the availability of a large amount of data and their free movement are key prerequisites for the successful realization of the EU's ambitions in artificial intelligence, said the Deputy Minister. According to her, the new artificial intelligence framework should set the right incentives for our small companies.
The Bulgarian representative also said that easing the rules for participation in multinational technology projects within the European Union will increase business interest in them. The Deputy Minister stressed that the Bulgarian side appreciates the opportunity that European digital innovation hubs can provide to support our companies for the widespread introduction and use of digital technologies. "By working to establish its technological identity, the EU should reap the benefits of an open economy," she said.
Ministers exchanged views on the EU's digital priorities for 2030 - connectivity and secure digital infrastructures, the digital transformation of small and medium-sized enterprises, the digitization of public services and digital skills, outlining the necessary actions.