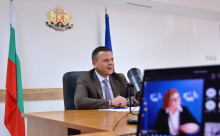 The EC is open to asses  proposals to co-financing the design and construction of a third bridge on the Danube River at Ruse and Giurgiu and the second phase of the Fast Danube 2 navigability improvement project.
This became clear during a video conference between Transport Commissioner Adina Vălean and the Deputy Prime Minister for Economic Policies and Minister of Transport and Communications, Hristo Alexiev.
The European Commissioner called on Bulgaria to speed up the preparation of projects concerning the bridge at Ruse and Giurgiu so that they can be submitted by mid-January 2023 in the ongoing Connecting Europe Facility call for proposals.
Deputy Prime Minister Alexiev reported that the Bulgarian Ministry of Transport and Communications has sent to the Romanian side a draft Agreement on a third bridge on which Romania's opinion is expected. Mr. Alexiev also noted that Bulgaria is about to send its comments on the agreement to create a joint venture ensuring the navigability and transport operations in the Danube River. Commissioner Vălean welcomed the strong commitment of Deputy Prime Minister Alexiev for better management of the maintenance of the Danube River.
During the conversation, the need to increase the capacity of infrastructure in the North-South transport direction was pointed out. Commissioner Vălean explained the benefits of the two new corridors- the Black-Baltic-Aegean Seas and the Western Balkans.
The Bulgarian Deputy Prime Minister noted that Romania was also invited to join the project for the railway corridor Thessaloniki — Kavala — Burgas — Varna — Ruse. Adina Vălean invited all concerned partners to continue these discussions at a more technical level to ensure coherence with standards, methodology, and deadlines foreseen by the TEN-T requirements.
Mr. Hristo Alexiev and Mrs. Adina Vălean also discussed the EU-Ukraine Solidarity Lanes, as well as the role of Bulgaria in transporting goods.
The issue of including Corridor 8 in the scope of the Western Balkans Corridor was also discussed in this context. The Deputy Prime Minister Alexiev presented the important role of Corridor 8 in achieving strategic autonomy in the region and creating a transport alternative from East to West.