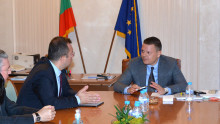 The Minister of Transport, Information Technology and Communications Hristo Alexiev held an emergency meeting today with the Deputy Head of the Diplomatic Mission of the Republic of Turkey in Sofia Mr. Erman Topçu. The meeting was a continuation of the talks of Minister Alexiev yesterday with a representative of the Turkish shipowner.
Hristo Alexiev set a condition for strict control over the commitment and obligation of the shipowner to present a timely adequate plan in accordance with the Bulgarian and the legislation of the EU. The Minister pointed out that the Bulgarian state continued to manage the salvage operation and had mobilized equipment, including for the evacuation of the crew, and that the situation was currently under control, but additional urgent and adequate measures were needed by the shipowner.
The Deputy Head of the Diplomatic Mission Erman Topçu informed Minister Alexiev that the shipowner had already provided a specialized company to salvage the ship and was awaiting written confirmation from the Bulgarian side. In response, Minister Alexiev said that the Bulgarian state would confirm the engagement of that type of company, but expected to be presented with a clear plan with certain steps to deal with the situation. The Minister insisted on the strict implementation of the plan and the guarantees for the care of the crew, which were of paramount importance for the Bulgarian state.
"I am convinced that Bulgaria and Turkey will show their good cooperation in resolving this critical issue", Alexiev said.
The Deputy Head of the Diplomatic Mission Erman Topçu confirmed  that the Embassy would provide the necessary assistance and play an active role in coordinating the issue.