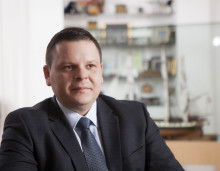 The Deputy Prime Minister for Economic Policies and Minister of Transport and Communications Hristo Alexiev leads the Bulgarian Government delegation that will visit Greece in the period November 3 to 4.
The Bulgarian side will also be represented by the Minister of Economy and Industry Nikola Stoyanov, the Minister of Energy Rossen Hristov, the Executive Director of Bulgargaz EAD Denitsa Zlateva and the Executive Director of Bulgartransgaz EAD Vladimir Malinov.
Deputy Prime Minister Alexiev will hold meetings with the Minister of Infrastructure and Transport Kostas Karamanlis, the Minister of Environment and Energy Kostas Skrekas, the Minister of Development and Investment Adonis Georgiadis and other meetings.
The main discussion topics are the accelerated development of the TKABVR intermodal Transport Corridor Project (Thessaloniki-Kavala-Alexandroupolis-Burgas-Varna-Ruse). Energy cooperation, energy security, diversification and the green transition will also be discussed.