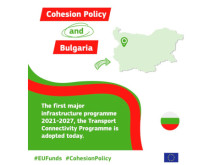 At the beginning of his mandate, the Deputy Prime Minister for Economic Policies and Minister of Transport and Communications, Hristo Alexiev, took immediate action to prepare and submit for consideration to the European Commission the "Transport Connectivity" Program 2021-2027. After a consistent policy and efforts, the Transport Connectivity Program 2021-2027 was approved today by the European Commission. This is the first major infrastructure program for Bulgaria that has been adopted by the European Commission. The budget of the program is approximately 1.61 billion euros. The funds will be invested in some of the largest road and railway projects in our country, in the purchase of specialized equipment in water transport, as well as investments to reduce harmful emissions from transport.
In the railway sector, the main priority will be the completion of the railway lines Elin Pelin - Kostenets, Voluyak - Dragoman, as well as modernization of the sections from Sofia to the Serbian and Macedonian borders. Funding will be sought for their implementation, both under the "Transport Connectivity" Program and under the Connecting Europe Facility.
In the road sector, the construction of the Ruse - Veliko Tarnovo highway and the tunnel under Shipka, which will provide a fast connection between Central, Northern and Southern Bulgaria, is planned. Completion of the Struma Motorway is another priority in the axis for road projects.
The program continues the Policy of improving shipping conditions in the Black Sea and along the Danube River through investments in the ports of Varna, Ruse and Lom, as well as the purchase of another dredging vessel. With funds from the "Transport Connectivity" Program 2021-2027, a new marking vessel will also be purchased, which will be used for coastal and floating signaling along the Danube River, with a view to increasing the safety of navigation.
The Transport Connectivity Program 2021-2027 provides funds in the amount of BGN 92 million for charging infrastructure for alternative fuels along the national road network and in the ports. The aim is to encourage the phase-out of high-emission cars and their replacement with electric cars.
The program includes the purchase of a specialized ship for search and rescue, and for response to combined incidents in the maritime spaces of Bulgaria (fires, pollution, etc.). A coastal center will be established for general control of shipping in compliance with international rules for preventing collisions at sea, for mandatory reporting to ships, and for pollution prevention.
Attached is a map of the road and railway projects financed under OP "Transport and Transport Infrastructure" 2014 - 2020 and planned for implementation under "Transport Connectivity" Program 2021-2027.