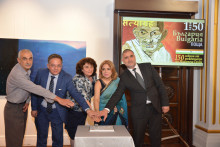 The first Bulgarian postage stamp dedicated to the spiritual leader Mahatma Gandhi was validated today. The postage stamp was put into use by the Deputy Minister of Transport, Information Technology and Communications Andreana Atanasova and the Ambassador of India to Bulgaria H.E. Pooja Kapur.
"With this edition, the Bulgarian side joins in celebrating the 150th anniversary of the birth of one of the most influential leaders in the world history - Mahatma Gandhi," Deputy Minister Andreana Atanasova said during the ceremony. In her words, the postage stamp is part of a new topic in the Bulgarian postage stamp issuing related to personalities that have contributed to the development of spirituality and universal human values.
"The friendly relations between Bulgaria and India have a long history in our postage stamp issuing. An edition dedicated to the Indian writer and philosopher Tagore was validated in the 1980s. The postage stamp commemorating the first woman Prime Minister of India - Indira Gandhi was issued the same period. Two editions dedicated to the diplomatic relations between Bulgaria and India were published in 2004 and 2014," said Andreana Atanasova.
The artist of the postage stamp is Stoyan Dechev. It is printed in 7 000 copies.