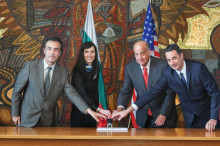 Deputy Prime Minister and Minister of Foreign Affairs Maria Gabriel, Minister of Transport and Communications Georgi Gvozdeykov and US Ambassador to Bulgaria Kenneth Merten validated a postal and philatelic edition dedicated to the 120th anniversary of the establishment of diplomatic relations between the two countries.
"One stamp can carry a stronger message than 120 words," Minister Gvozdeykov said before the stamp was placed on the edition. This is the third stamp in the philatelic encyclopaedia of diplomatic relations between the countries.
"One hundred and twenty years later, Bulgaria and the United States are partners and allies. Moreover - they are friends", Minister Gvozdeykov stressed. He added that the stamps that will travel on both sides of the ocean carry a message of peace and friendship between the countries.
The artistic project of the stamp includes the national flags of Bulgaria and the USA, which symbolize the sovereignty and the independence of the countries. Next to them is the credential of the first US ambassador in Sofia, signed by President Theodore Roosevelt.