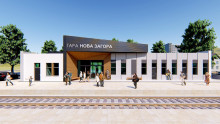 The Minister of Transport, Information Technology and Communications Georgi Todorov and the Minister of Culture Velislav Minekov sent a letter to Nova Zagora Municipal Council and to the Mayor of the city in connection with the project for construction of a new railway station. Both ministers are demanding an official statement in a short notice on whether local authorities and the public are in favour of the idea of building a new railway station next to the current reception building.
"The state cannot allow loss of funds for a project already approved for financing under the Operational Program on Transport and Transport Infrastructure 2014 - 2020 in the amount of BGN 2,721,279 without VAT. The project is in an advanced phase, contracts have been signed with deadlines for construction, and the deadline for the absorption of European funds is 2023, after that date funding will be lost", the letter reads.
The ministers stated that in view of the expressed desire to preserve the cultural heritage in Nova Zagora, NRIC has repeatedly proposed to the local authorities to transfer the existing building of the railway station to the assets of the Municipality. This will allow the immediate implementation of the project for a new railway station and at the same time Nova Zagora Municipality will be able to fulfill the requests of the residents of the city for restoration of the existing building.
"We would like to express our concern and remind you once again that in case of refusal to transfer the management of the existing reception building to the assets of Nova Zagora Municipality, we will be forced to start the project, in accordance with the already issued building permit, which includes the demolition of the existing railway station", the letter reads further.