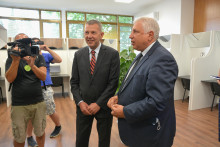 The online training system of Executive Agency "Railway Administration" is due to be upgraded by the end of 2021, the Minister of Transport, Information Technology and Communications announced at the opening of a new room in Plovdiv for conduct of electronic tests of the individuals responsible for safety of railway transport.
"This is another step of the Ministry of Transport, Information Technology and Communications on its way to digitalization", Minister Todorov said. He added that administering of examinations with the help of the electronic system aims to eliminate the influence of the human factor, objectivity in testing the knowledge of the examinee, cease of attempts at fraud and improvement of the skills of the personnel in the railway sector.The examination room in Plovdiv has a capacity of 16 test terminals, while two more such rooms have already been equipped and put into operation in Sofia and Gorna Oryahovitsa, Georgi Todorov said.
Minister Todorov explained to journalists that last week he had sent to the State Financial Inspection Agency the audit reports he had ordered for BDZ's activities. "I hope that the new management of the railway carrier will be registered soon with the Registry Agency to start its operational activities. We have already outlined their tasks in the short term - they are related to improving the traffic timetable, fewer delays, transport safety and efficient management of financial resources. The company will be looking for new customers for freight transport operations. At the moment, BDZ has liabilities of over BGN 20 million to the National Company "Railway Infrastructure", which are from unpaid infrastructure fees and energy costs", Georgi Todorov commented.
Regarding the financial commitments of the concessionaire of Plovdiv railway station, Minister Todorov stated that he had sent a letter to him with a request for payment of the concession fee which is due to the state. "I have ordered an inspection to determine whether the railway station concessionaire is fulfilling the commitments under the signed agreement", he explained.
In Plovdiv Minister Todorov visited the NRIC dispatch center in charge of train traffic and examined an exhibition of railway modeling.