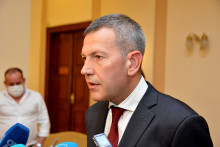 I will be at a different border checkpoint every week until heavy goods vehicle traffic gets relieved. This is what the Minister of Transport, Information Technology and Communications Georgi Todorov announced after today's meeting to discuss and take the necessary actions to facilitate the passage of trucks across the land borders at the exit from Bulgaria.
"All state authorities involved in the problem, as well as representatives of the transport industry, took part in today's talks. The measures that have been drawn up are ubiquitous and everyone,
The main measure that the Minister pointed out was the formation of expert groups, which would start working at the border crossings the following week, where together with their colleagues they would consider the possibilities for improving the efficiency. "Next week we will start work on Danube Bridge 2 near Vidin-Calafat, and through the Ministry of Foreign Affairs a dialogue will be sought with the Romanian side to facilitate the work of the checkpoint. This problem is facing the other border and customs controls and therefore we will work to find a comprehensive solution", Minister Georgi Todorov said.
In the framework of the meeting, an option for separating full and empty trucks was discussed, which would lead to a partial easing of traffic. "Even more traffic is expected next month. We hope to find a solution as soon as possible by the beginning of the next month", the Minister said. According to him, at the moment the increase in traffic on Danube Bridge 2 was 15% compared to 2019. Part of the reasons for that were the increased tolls on the territory of the Republic of Serbia, as well as problems on the Serbian-Croatian border faced by Bulgarian carriers.
The Executive Director of the Road Transport Administration Executive Agency, Boyko Ranovski, said that in many cases the reasons for the delay were not on the Bulgarian side. At the Vidin-Calafat border checkpoint, the problem was on the territory of Romania, and at Ruse-Giurgiu, thorough inspections of trucks were carried out for the presence of emigrants. The problems are different and therefore solutions will be sought ad hoc. To date, the most difficult was to cross the Danube Bridge 2 near Vidin, where the queue was about 7 km, stopping trucks in the Montana region as well. In Ruse the queue was about 5 km and the trucks were stopped at Byala. These were the busiest border checkpoints at the exit from the country", Boyko Ranovski added.
The meeting was attended by the Director of the Customs Agency Pavel Tonev, the Director of the General Directorate of Border Police Chief Commissioner Deyan Mollov, Veselin Peykov from the Management Board of the Road Infrastructure Agency, the Director of the Consular Relations Directorate Dancho Michev, the Executive Director of the Road Transport Administration Executive Agency Boyko Ranovski and representatives of the branch organizations in road freight transport.