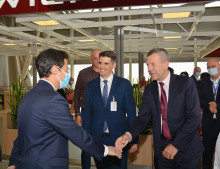 I expect Sofia Airport to become a modern and competitive airport, not only in the Balkans, but also in Europe. This is what the Minister of Transport, Information Technology and Communications Georgi Todorov stated within the framework of the regular meeting of the Joint Committee between MTITC representatives and the concessionaire of the airport "SOF Connect" AD. According to him, in order to fulfill that goal, it was necessary to work on the activities planned by the concessionaire. "Any delay will not benefit the development of Sofia Airport and the achievement of the ambition to take a leading position in the region, among airport operators", Georgi Todorov added.
Within the meeting, the planned activities were discussed, according to the concession agreement for the award of Sofia Airport Concession. The concessionaire presented the progress of the investment program. The renovation of the bathrooms, children's playgrounds and the shopping area is in progress. More restaurants, cafés and shops are planned to offer leading Bulgarian and world brands. The interior is to be renovated, stations for charging mobile devices will be installed, as well as the provision of high-speed free Internet.
Minister Georgi Todorov took the engagement to hold the necessary talks with the Ministry of Interior and the Ministry of Health to improve the organization of passenger service so as to increase throughput capacity.
After the meeting, Minister Georgi Todorov visited Sofia Airport, where the airport management presented the main activities that would be performed.