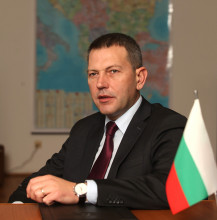 I have ordered an audit of BDZ security contract. This is what the Caretaker Minister of Transport, Information Technology and Communications Georgi Todorov stated in a framework of a meeting with the President of the Union of Railway Workers in Bulgaria at The Confederation of Independent Trade Unions in Bulgaria (CITUB) Petar Bunev, the President of the Union of Transport Trade Unions in Bulgaria Ekaterina Yordanova and the President of the National Railway Trade Union at Confederation of Labor "Podkrepa" Zorincho Yordanov.
"At the beginning of my term of office, I ordered that all BDZ reviewed be suspended until the appointed inspections are completed. The term of the audit of the security contract is 15 days, after which I expect the results and opinion on the inspection. When the reports are ready, depending on the results, I will take measures, and if necessary, I will notify the competent authorities", Georgi Todorov said.
According to the representatives of the trade unions, the contract for security of BDZ was concluded in gross violation of the labor legislation, as more than 200 employees of BDZ, responsible for security, were fired. In their opinion, this action had not been discussed with trade union representatives and was contrary to collective labor agreements and the Labor Code. According to them, the contract was not economically viable for the company and leads to higher costs.
The topic of increasing hygiene in trains was also discussed within the talks. "One of the main problems in the Bulgarian railways is the poor hygiene in the trains. Fast and efficient actions are needed to improve the cleanliness and comfort of travel, which will also lead to an increase in passengers. I expect BDZ to present a draft of a new methodology for cleaning", Georgi Todorov added.
The topic of frequent attacks on rolling stock was also discussed. Minister Georgi Todorov pointed out that together with the trade unions and other responsible institutions an effective solution to this problem had to be found, as people's lives and health were of paramount importance.
.