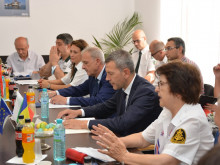 Joint actions are needed to ensure free traffic and maintain the functioning of the Green Lanes between Bulgaria and Romania, the Minister of Transport, Information Technology and Communications Georgi Todorov stated during a meeting with the State Secretary ат the Ministry of Transport and Infrastructure of Romania Adrian Covăsnianu in Vidin.
First of all, we will establish a working group between the two Ministries, Georgi Todorov explained. According to him, it will include experts in charge of various types of control to shorten the waiting times because the traffic is increased. The group will work permanently and will function in terms of the other points along our common border with Romania.
Compared to the same period in 2019, the number of the vehicles crossing Danube bridge 2 is 15 percent up, Georgi Todorov said. He added that there is additional traffic from Albania, as well as from Serbia due to the increased tolls in our western neighbor. Between 1,000 and 1,200 heavy motor vehicles are being processed at the bridge in one direction per day.
"Today the queue of veavy motor vehicles on Danube Bridge 2 is about 3.5 km long. 10 days ago its length was 16-18 km. Waiting times gradually decrease as a result of our joint actions. That is why I suggested to make a joint visit to Rousse-Giurgiu border crossing point at the beginning of next week to look for concrete solutions there as well, because each point has specifics in terms of traffic and infrastructure capacity", the Minister said.
"The border crossing points on the bridges at Vidin-Calafat and at Rousse-Giurgiu are the busiest upon exit from Bulgaria with long queues of heavy motor vehicles. This leads to excessive traffic delays, which is unacceptable for two Member States of the European Union. Therefore, the Bulgarian side also addressed the European Commissioner for Transport Adina Valean, who was asked for assistance in resolving the problem", Georgi Todorov said.
The Minister pointed out that a comprehensive approach is needed, which should include several measures, such as providing for the possibility of 24-hour crossing of cars and heavy motor vehicles through the border crossings with Romania, as well as simultaneous border inspections of more than one vehicle. According to him, the separation of the flows of heavy motor vehicles, between hauliers of EU and of third countres origin and the increase in the number of weighing scales will also have a positive result in the short term.
After the talks Georgi Todorov and Adrian Covăsnianu, together with the representatives of the border and the customs control authorities and of the haulage, acquainted with the situation on Danube Bridge 2 on-site and with the opportunities for facilitating the crossing of the point.