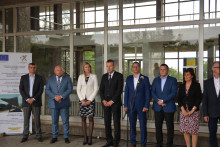 As long as I am a Minister, I will not allow even one lev of European funding for railway infrastructure not to be allocated. This is what the Caretaker Minister of Transport, Information Technology and Communications Georgi Todorov stated at the start of the modernization of the Orizovo-Mihailovo railway section.
"I have instructed the Director General of the National Railway Infrastructure Company to report to me on a daily basis on the progress of each of the projects", the Minister added.
He assured that he has the agreement of the Minister of Regional Development and Public Works Violeta Komitova that all delayed files and procedures shall be moved as soon as possible.
At the start of construction work, Minister Todorov explained that in four years Orizovo-Mihailovo railway line will allow speeds of up to 160 km/h, compared to the current average speed of 65 km/h.
"We are investing BGN 218 million under the Operational Program on Transport and Transport Infrastructure for the complete rehabilitation of the 37-kilometer section", Georgi Todorov said. According to him, the project envisaged the construction of the railway line for the most part along a new route, which would allow reaching the European railway standards.
"Within days we will start the construction of signaling and telecommunications systems from Plovdiv to Bourgas, and the reconstruction of the Railway Station Nova Zagora", Minister Todorov added. According to the Minister of Transport, the gradual renewal of all components of railway transport once again confirmed the country's priority for successful integration into the European Railway Network.
The Project on rehabilitation of Orizovo-Mihailovo railway section includes modernization of the railway, facilities, catenary, buildings and signaling and telecommunications systems. The activities also envisage the removal of all railway crossings, and overpasses and underpasses will be built in their place, in order to increase safety. The construction of a new reception building at Orizovo Railway Station and the reconstruction of Chirpan Railway Station are also planned. The project contractor is Euro Railway Infrastructure DZZD, including the companies Infrastructure Construction AD and Marko Obra Publika AD, and the term for completion of all activities is up to 49 months.