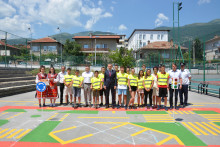 Protecting the lives and health of children on the road is a top priority. This was stated in Karlovo by the Minister of Transport, Information Technology and Communications Georgi Todorov during the opening of a playground for training of children on road safety.
The Minister pointed out that the upbringing of children in compliance with traffic rules is an obligation not only of state institutions. He pointed out that the family and the school also have a key role to play in raising conscious road users. "We all need to take responsibility and take particular action to create the necessary conditions and mechanisms to achieve this goal, because there is nothing more valuable than our children. Building more such playgrounds is a step in the right direction. I call on the institutions at local and national level to be more active and responsible for achieving this goal", said Minister Georgi Todorov.
According to him, this model of education is widespread in Europe and has a positive effect on the formation of behavior of children as road users. "The investment today will have a real result in the future and will bring us closer to the main goal of the "Vision Zero" concept - to reduce to zero the number of traffic-related fatalities", added the Minister of Transport.
On June 29, we celebrate the Day of Road Safety. On this occasion, a similar site was opened today in Chernomorets. The project for the construction of the two sites is being implemented on the personal initiative of Georgi Todorov.
Minister Todorov told journalists in connection with the dismissal of two members of the Board of Directors that he would announce the two new competitions today. "I believe that the quorum of the company will not be violated, as the Board of Directors consists of five members. The other three can act in accordance with the law and the statute of the holding and make lawful decisions, as their main task is to control the companies for passenger and freight transport", he also commented.