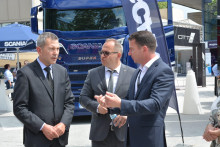 The suspension or restriction of road transport has serious consequences on the economy and the quality of life in all EU Member States, as stated the Minister of Transport, Information Technology and Communications Georgi Todorov in Plovdiv during the opening of the automobile exhibition - TRUCK EXPO 2021. According to him, all sectors in the EU suffered from the restrictions on the transportation of goods and people last year and especially in the first months of the pandemic, which is indicative of the important role of road transport for the stability of the Union.
"I am confident that the necessary conclusions have been drawn and more efforts will be made in the future to create and maintain a favorable environment for the transport business. Encouraging investment, as well as building modern infrastructure, are also essential for the stability of the industry", said Georgi Todorov.
The Minister pointed out that the sector needs certainty of justice, hence the Bulgarian side continues to work actively on Mobility Package I. "Our position is unequivocal and it has not changed. The three legislative acts adopted under Mobility Package I undoubtedly lead to extremely unfavorable consequences for Bulgarian undertakings and will have a negative impact on the environment. This was clearly confirmed by the European Commission's assessment of the impact of the new regulations on climate, environment and the functioning of the single market", said the Minister of Transport.
Minister Georgi Todorov pointed out that road transport is growing every year, which requires a responsible approach and road safety should not be neglected. "Compliance with the requirements for the transportation of passengers and goods, as well as the driving rules and drivers' rests, are extremely important and essential for the overall model of road safety", highlighted Georgi Todorov.