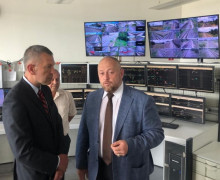 With the construction of modern management and security systems on the railway line from Plovdiv to Burgas we significantly increase the safety of railway transport in the area. This is what the Minister of Transport, Information Technology and Communications Georgi Todorov stated at the visit of Railway Traffic Management Center in Plovdiv. He got acquainted on the spot with the implementation of the project for construction of signaling and telecommunications systems between Plovdiv and Burgas, which started at the end of June this year, and the total investment amounts to BGN 185 million.
At the Dispatch Center, NRIC Director General Krasimir Papukchiyski presented to Minister Todorov how similar systems operate in the Plovdiv-Svilengrad section. "From here, all 12 railway stations from Plovdiv to Svilengrad are managed from one workplace", Papukchiiski explained.
Within the project, the entire section from Plovdiv to Bourgas will be equipped with a European Train Traffic Management System, which includes a train control system and a radio communication system for voice and data transmission between the train and the railway stations. "With the introduction of intelligent transport systems, we limit the likelihood of the train going" red "or exceeding the speed limit. It is also expected to reduce the damage to the trains, which become the main reason for many of the delays", Krasimir Papukchiyski said.
The European Train Traffic Management System is compatible with the whole of the European Union, which guarantees the implementation of international rail transport on European corridors and the liberalization of the railway transport market in Europe. The same equipment will be built in all sections of the railway network, which are gradually being renovated.