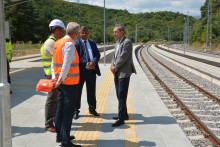 The rehabilitation of the railway section Koprivshtitsa - Stryama and Koprivshtitsa Railway Station has been completed. The Minister of Transport, Information Technology and Communications Georgi Todorov inspected the implementation of the two sites.
"On the route is the longest railway tunnel on the Balkan Peninsula, with a length of 5,812 m, which passes under Koznitsa Ridge, connecting Stara Planina and Sashtinska Sredna Gora. The facility has not been reconstructed for nearly 50 years and its technical condition did not meet modern requirements", Minister Todorov said. He pointed out that due to the safety of passing trains, the speed in the tunnel was limited to 25 km/h, and after the rehabilitation of the railway infrastructure, the speed limit was up to 100 km/h.
"During the repair works of the tunnel, we completely restored and preserved the rhomboid contact network, which is installed only here in the entire railway network of the country. We have used screwless fastening of the railway lines, which allows their faster restoration, if necessary", the Deputy General Director of the National Railway Infrastructure Company Biser Minchev said at the inspection.
According to the project, 5,812 m of railway was completely renovated with strengthening of the road surface, drainage facilities were built and partial waterproofing of the tunnel structure was performed. A complete replacement of the elements of the catenary network in the section has been carried out, lighting of the tunnel has been built, as well as video surveillance of the two portals. At the moment, the appointment of a commission for the signing of a Statement of findings for ascertaining the eligibility of the construction site for acceptance is expected. The contract value is BGN 29,029,775.15 with VAT.
The reception building of Koprivshtitsa Railway Station has been partially renovated, and this is the first serious repair since the construction of the railway station in 1951 until today. After the completion of the work, the design speed in the area of the station is 90 km / h. The value of the project is BGN 9,579,165.71 with VAT.