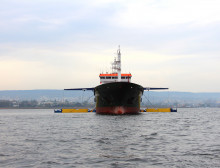 A joint oil spill removal drill was carried out in the Gulf of Varna. The exercise was attended by representatives of DG "Emergency Rescue", Maritime Administration Directorate-Varna, European Maritime Safety Agency (EMSA) and others.
In 2012 the first vessel to fight oil spills in Bulgaria's territorial waters was equipped and its contract with the European Maritime Safety Agency expired last year. With the efforts of the managements of the Ministry of Transport, Information Technology and Communications and the Executive Agency "Maritime Administration" an agreement was reached with the European institution for the conclusion of a new contract for the equipment of a new vessel - second for the Black Sea border of the European Union. The practice is to have only one in a region, and in the Black Sea there is already a vessel of this type in Constanta, Romania. Following this agreement, EMSA opened a procedure to equip a commercial vessel, which to be at disposal in case of a spill.
During the drill today was demonstrated the equipment of the vessel for exploration, identification and combat with oil spills, as well as the reception and transmission of data from/to the Marine Rescue and Coordination Center. The exercise was carried out in cooperation with EMSA as the satellite based oil spill monitoring system (Clean Sea Net) and the European disaster system CESIS (ERC) were activated in parallel.
***
"EMSA Oil Spill Response Services" project aims to establish a network of stand-by oil spill response vessels through arrangements with commercial vessels. In this regard Bulgaria has hired "Galaxy Eco" for the period 2017-2021 with the South Black Sea as a region of activity.
The EMSA vessels are specially adapted for oil spill related operations and are on a stand-by basis while doing their normal business. Currently, EMSA maintains 17 full-service oil spill response vessels across Europe.
In the case of oil spills under the terms of the contract, the vessel should terminate its normal business and direct to the requesting country fully equipped to combat oil spills, under established conditions and tariffs. The maximum time for mobilizing the vessel and procceding to the affected area is 24 hours after the assistance is requested.
Regardless of the area of the commercial operation , all vessels in the EMSA network can be mobilized to fight oil spills anywhere in European waters and general sea basins.