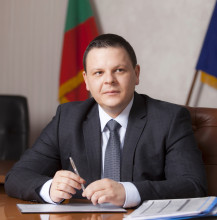 A Bulgarian captain and crew should board the ship Vera Su in order to control the situation and prevent diversion. This is what the Minister of Transport, Information Technology and Communications Hristo Alexiev ordered after the evacuation of the crew of the ship announced earlier today.
According to the Minister, the first priority in the action had always been the rescue of the crew and that was why he demanded a few days before to build a facility and an evacuation plan. "The fact that the ship is unmanned is not a problem at the moment, because the vessel is reinforced with anchors", Alexiev said. According to him, the leaving of the crew was inexplicable at that moment and raised questions, because there was no change in the conditions over the last few days.
"As a country, we have taken urgent measures to appoint a captain and crew, in order to continue the actions for the safe unloading and release of the ship, which is impossible without the presence of a crew," Alexiev said.