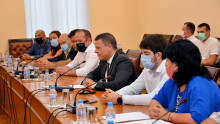 Dialogue with the road transport industry has been restored. This was stated by the Deputy Prime Minister for Economic Policies and Minister of Transport and Communications Hristo Alexiev after a meeting with representatives of branch organizations in the field of road transport of passengers and goods. He added that taking urgent measures to achieve sustainability in the road transport sector is one of the important steps to guarantee the country's economic stability.
"The problems of the road transport industry were neglected, which led to a significant increase in transport costs and directly affected the prices of goods and services in the country. At the moment there are many crises and a serious rise in inflation. Much of this inflation is domestic and generated due to the implementation of incorrect public policies. As a Caretaker Government, we will focus on the root cause of all these crises, and with the implementation of certain measures, the rise of inflation can approach the European rate", Hristo Alexiev pointed out.
The Deputy Prime Minister and Minister of Transport and Communications announced that measures to solve pressing problems in the sector and mechanisms to stop rising fuel prices were discussed together with the industry. The elaboration of a weighted methodology for toll taxes, following the example of other countries in the EU, was discussed, so that the industry would be relieved, without affecting too much the revenues in the budget by the toll system. The slow passage through the border crossing points is another problem that also contributes to increasing the expenditures of carriers, commented the Deputy Prime Minister, pointing out that workable solutions were also being sought for this issue.
Hristo Alexiev stated that special attention would be paid to information presented by the industry about unregulated practices in structures to the Ministry of Transport and Communications. Normal 0 21 false false false BG KO X-NONE /* Style Definitions */ table.MsoNormalTable {mso-style-name:"Table Normal"; mso-tstyle-rowband-size:0; mso-tstyle-colband-size:0; mso-style-noshow:yes; mso-style-priority:99; mso-style-parent:""; mso-padding-alt:0cm 5.4pt 0cm 5.4pt; mso-para-margin-top:0cm; mso-para-margin-right:0cm; mso-para-margin-bottom:8.0pt; mso-para-margin-left:0cm; line-height:107%; mso-pagination:widow-orphan; font-size:11.0pt; font-family:"Calibri",sans-serif; mso-ascii-font-family:Calibri; mso-ascii-theme-font:minor-latin; mso-hansi-font-family:Calibri; mso-hansi-theme-font:minor-latin; mso-fareast-language:EN-US;}