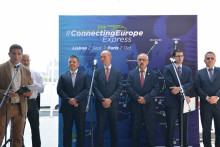 Hristo Alexiev put his first signature as Minister of Transport, Information Technology and Communications at the commemoration of the Connecting Europe Express Initiative. The act took place at a ceremony to send the train passing through Bulgaria on the occasion of the European Year of Rail.
"Currently, railway projects worth BGN 3 billion are being implemented with European funding," Hristo Alexiev said in his speech to the representatives of the European Commission.
"In the last 15 years we have made enormous efforts and huge investments in the railway infrastructure, and our main goal remains the completion of the main European Corridors passing through the country", Minister Alexiev said. According to him, intermodal transport should get its rightful place, because it would guarantee better conditions and competitive prices of the transport service, for the benefit of the economy.
"Digitalisation in the railway sector is another aspect of our work that has enormous potential and we must accelerate the transformation of railways into modern innovative enterprises", he added.
A postage stamp was validated on the occasion of the European Year of Rail.
Minister Alexiev informed journalists that the main priorities in his work would be the acceleration of work on all infrastructure sites and tough control over the implementation of concession contracts in the system.
The event was also attended by the Deputy Prime Minister for European Funds Management Atanas Pekanov, the Deputy Mayor of Sofia Municipality Doncho Barbalov and representatives of the European Commission.
After the ceremony, Minister Alexiev boarded the train, which continued its European tour to Ruse.