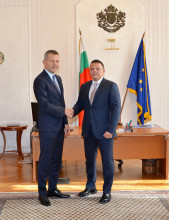 Accelerating the implementation of projects for railways, roads, and digital highways is one of my main tasks. This was stated by the new Minister of Transport, Information Technology and Communications Hristo Alexiev at the acceptance of the management of the Ministry by Georgi Todorov.
"In the last 5 months, railway projects worth over BGN 1 billion have been launched. Investments in the amount of BGN 4 billion are expected under the Transport Connectivity Program, after approval by the European Commission. We will also actively apply under Connecting Europe Facility 2021-2027", Minister Alexiev said.
He added that under the draft Recovery and Resilience Plan, Transport Connectivity funds amounted to BGN 1.8 billion. According to him, Digital Connectivity investments were expected to amount to BGN 1 billion, of which 300 BGN million attracted funding from the operators.
"Within my term-of-office, I will demand increased control over the implementation of concession contracts, as well as the continuation of reforms in the sector", Hristo Alexiev said. He expressed a desire for future cooperation with the current Minister Georgi Todorov.
****
Hristo Alexiev is an economist and expert in the transport sector.
He holds a number of qualifications and certificates from Imperial College London, Oxford University Business School and other international educational institutions.
He has led the successful implementation of some of the largest infrastructure projects in the transport sector.
In his professional experience he was a consultant on the project for construction of an Intermodal Container Terminal in Plovdiv; member of the Board of Directors of the Public Access Zone in the Port of Burgas EAD; member of the Steering Committee of Priority Project 22 in Brussels, member of the Management Board of the International Organization European Freight Railway Corridor 7 in Budapest, Chairman of the Board of Directors of Port of Burgas EAD; Chairman of the Management Board and Deputy General Director of the National Railway Infrastructure Company.
In 2017, Hristo Alexiev was Minister of Transport, Information Technology and Communications in the Caretaker Government of Ognyan Gerdzhikov.