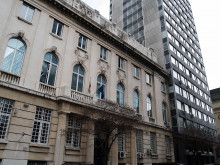 Citizens and companies requested more than 7000 Internet names in the "bg" ("бг") domain. Over 1500 of them were subject to analysis of conformity with the registration criteria. The first 377 Internet sites in the "bg" ("бг") domain are already available in the global network. Separately, the Public Council to the Minister of Transport, Information Technology and Communications Ivaylo Moskovski approved a list of reserved over 32 000 Internet names in Cyrillic of geographic, cultural sights and governmental institutions.
The first on-line acting domains in Cyrillic in the "bg" ("бг") domain are of the State Fund Agriculture – dfz.bg (дфз.бг) and 9th French High School "Alfonse de Lamartine" – feg.bg (фег.бг). The Google multinational company requested the electronic mail Gmail.bg (Джимейл.бг), and the site for video content youtube.bg (ютюб.бг). There already exist information sites with domains in Cyrillic and Internet sites of wine producers, detectives, and plastic surgeons as well.
Thousands of requests for domains in Cyrillic have been still processed.