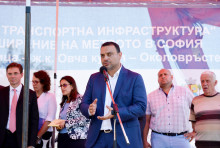 The construction of Sofia metro has an extremely high added value not only to the ecology and economic development of the region, but also to the transport links between the residential areas and the movement of hundreds of thousands of people daily, said the Minister of Transport, Information Technology and Communications Ivaylo Moskovski during the groundbreaking ceremony of the second stage of construction of the third metro line.
The event was also attended by EC Vice President Jyrki Katainenn, the European Commissioner for Digital Economy and Society Mariya Gabriel, the Mayor of Sofia Yordanka Fandakova, the Executive Director of "Metropoliten" EAD Stoyan Bratoev, the Head of EC Representation to Sofia Ognian Zlatev and others.
At the beginning of the first term of the government when we started the extension of the metro network we did not expect that we would achieve such good results. Today they are already a fact and in 2019 Sofia will have another metro beam with 12 new and contemporary metro stations, Moskovski said. For the three mandates as executive power we have created good conditions for the metro to be realized and to be continued its development in the coming years. Traveling to other European capitals, I always made assured of the high level of our underground railways, and I am proudthat we are part of this process, he added.
"Project on the extension of Sofia metro, Line 3, Stage II – section "Zhitnitsa" Str. - Ovcha Kupel residential area – Ring Road" is at the total value of 102 million EUR, of which 69 million EUR is provided under OP on "Transport and Transport Infrastructure" 2014-2020. It includes 3.8 km of new metro route and 4 metro stations from Ovcha kupel to Gorna Banya residential areas. The estimated capacity of the second stage is 40,000 passengers per day and of the twelve new metro stations of the third beam - totally 130,000 passengers per day.