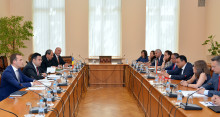 By 2020 Bulgaria will have 3 new specialized vessels for exploring the state of the Danube and a new dredger for critical sections, as made clear the meeting between Ivaylo Moskovski, Minister of Transport, Information Technology and Communications, and Alexandru-Rӑzvan Cuc, Minister of Transport of Romania, which was held today in Sofia.
Minister Moskovski pointed out that a project for the delivery of a multifunctional dredging vessel and the related facilities is currently being prepared, with an indicative value of 20 million BGN and the financing will be provided under OPTTI 2014-2020. At the same time, the Ministry and EA " Exploration and Maintenance of the Danube River" are jointly conducting two open procedures for the purchase of two new specialized vessels for exploration and for marking of the Danube River. "We have selected a contractor for the exploring vessel and it is already under construction", Moskovski explained, adding that regarding the marking vessel the Commission is expected to make a decision by the end of this month. Ivaylo Moskovski also explained that within a few days there will be a contractor selected for another procedure - to carry out dredging activities in the threshold sections of the river in the next 3 years. The Commission has completed its work and a contract is due to be signed.
The two ministers discussed the acting Agreement between Bulgaria and Romania to maintain the fairway of the Danube River from 1955. The Romanian side has proposed an amendment of the document, allowing each of the parties to carry out dredging activities throughout the Bulgarian-Romanian section of the river. In the words of the Romanian Minister, this will enable the avoidance of critical situations and the interruption of navigation along the river. Minister Moskovski said that he supports the proposal, but it has to be examined whether Bulgarian legislation allows for such an amendment and that the issue is to be resolved at expert level between the two countries.