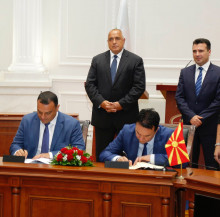 By constructing a railway link between Sofia and Skopje we open a new page in the relations between the two countries, stated the Minister of Transport, Information Technology and Communications of the Republic of Bulgaria Ivaylo Moskovski during a meeting with the Minister of Transport and Communications of the Republic of Macedonia Goran Sugareski, which was held today in Skopje.
The European Commission has definitely indicated that Corridor 8 is at the base of integration of the Western Balkans and targeted funding will be sought, said Ivaylo Moskovski during the bilateral meeting. He added that meetings with EU Commissioners Johannes Hahn and Violeta Bulc will follow to discuss further actions of the countries involved in the project. "The project will ensure the transport connectivity between our countries and will lead to greater security, sustainability and economic growth for the entire region", Moskovski added. "I hope that such initiatives will be an example for the other Balkan countries because there is no better alternative for us than transport connectivity", he pointed out.
The Minister invited the Macedonian side to join the successful Danube FAB project, which Bulgaria is carrying out jointly with Romania. This will result in even greater benefits and optimization of traffic in airspace.
Earlier today the two ministers signed a Memorandum of Understanding on the development of railway links between Sofia and Skopje. The document will serve as a basis for future joint work on the construction of the railway connection between the capitals of the two countries. The Bulgarian side undergo to construct the railway line Sofia - Pernik - Radomir – Macedonian border by 2027. Macedonia, on the other hand, has committed to build the railway section Kriva palanka - Deve Bair - Bulgarian border by the end of 2025.
Minister Ivaylo Moskovski added that the overall design of the Sofia - Pernik - Radomir - Macedonian border section is planned for this programming period. For the railway line from Sofia to Radomir technical designs and detailed development plans have been elaborated, which are at the coordination stage, and for the rest of the section the design documentation is currently under preparation. Analyzes indicate that around 800 million EUR will be needed to modernize the whole line from Sofia to Gyueshevo, he added.
Minister Moskovski is part of the official delegation led by Prime Minister Boiko Borissov, who is paying a two-day visit to Macedonia. Earlier today Prime Ministers Boiko Borsisov and Zoran Zaev signed the historic Agreement on Friendship, Good Neighborhood and Cooperation between the Republic of Bulgaria and the Republic of Macedonia. During the visit Minister Moskovski took part in a plenary meeting between the representatives of the two governments, during which topics of mutual interest were discussed.