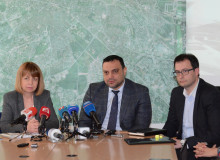 The project for the extension of the Sofia metro is one of the most complex projects in the new programming period of Operational Programme "Transport and Transport Infrastructure" 2014 - 2020, said today the Minister of Transport, Information Technology and Communications Ivaylo Moskovski during the presentation of the project on the construction of the third line of the underground railroad. The event was attended by the mayor of Sofia Yordanka Fandakova, the Deputy Mayor for Transport Lyubomir Hristov, the Executive Director of "Metropolitan" EAD Stoyan Bratoev and the Deputy Head of the Managing Authority of Operational Programme "Transport and Transport Infrastructure" Eng. Galina Vassileva.
"In recent years all governmental delegations that come to a visit in Bulgaria and are interested in infrastructure remain impressed by the project on the metropolitan subway" said Ivaylo Moskovski. The Minister pointed out that the total financial resource, envisaged for the construction of the first stage of the third metro line amounted to 700 million levs. Ivaylo Moskovski added that after the start of the projects will be sought options to provide additional funds to be invested in the metro.
"During the last programming period, the project on the extension of the subway was among the most successful infrastructure projects financed under the Operational Programme" Transport ", said Minister Moskovski. It had provided more than 1 billion lev for the extension of the first metro line and the construction of the second one. The length of the metro lines reached 39 km with 34 stations.
The route of the third line passes through "Vladimir Vazov" Blvd. - "Evlogi and Hristo Georgievi" Blvd. – Orlov Most – National Palace of Culture -  Krasno Selo RD – Ovcha Kupel RD. The first stage, for which have already been selected contractors, has a length of 7.8 kilometers and eight stations. Its total value is 848 million levs, VAT excluded, of which 685 million levs will be provided under the Operational Programme "Transport and transport infrastructure" 2014 – 2020.
The estimated carriage capacity of the line is over 170 thousand passengers a day, besides it makes intermodal connections with the main entrance roads of the city, with the national railway network in Gorna Banya RD and the first and the second metro line. Along with these steps will be built a depot for servicing of trains and will be provided 20 new metro trains, with the option for automatic traffic management.