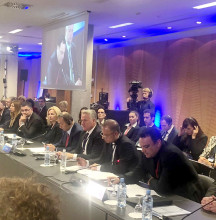 Modern digital technology is an effective tool for improving border crossing procedures and a prerequisite for faster and more secure services, stated the Minister of Transport, Information Technology and Communications Ivaylo Moskovski at a meeting of the transport ministers from Southeast Europe. The event is part of the program of the annual European TEN-T Days, which is held in Ljubljana, Slovenia, this year. The aim of the forum is to improve the transport connectivity of the Western Balkans, focusing on procedures for border control of cargo flows.
Minister Ivaylo Moskovski pointed out in his address that the issue of border control affects many institutions and MTITC is ready to contribute to better coordination between them. "Bulgaria has signed bilateral agreements in the field of transport with all its neighbors - Serbia, Macedonia, Turkey, Romania and Greece", the Minister explained. "Currently, we are most actively working on this issue with the colleagues from Greece and Serbia currently," Moskovski said. He added that a memorandum with Serbia was signed on 23 February this year to improve rail transport and more effective joint border control. "The current agreement with Greece was signed more than 50 years ago and that is why we elaborated a draft Memorandum last year that complies with the European legislation", Minister Moskovski specified. He commented that the two sides are currently waiting for the European Commission's opinion on the proposed draft Memorandum.
Two railway freight corridors – the Orient/Eastern Mediterranean and the newly developed Alpine-Western Balkan, pass through Bulgaria - the main freight traffic comes from the European countries to Turkey and vice versa, Ivaylo Moskovski also pointed out. Optimizing crossing border procedures is key to boosting transport flows in the region, he said.
Ivaylo Moskovski spoke with European Transport Commissioner Violeta Bulc prior to the Ministerial meeting. He presented the Bulgarian proposals for amendments to the Mobility Package, which is being discussed within the framework of the Bulgarian Presidency. They both discussed the issue and expressed the view that this is a fair and effective option that protects the rights of the hauliers fairly. The amendments to the document are due to be announced in short terms.