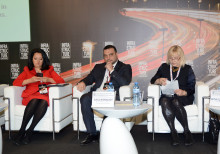 The introduction of a toll system for heavy vehicles will significantly reduce the imbalance in the whole transport sector, which currently exists. That was said by the Minister of Transport, Information Technology and Communications Ivaylo Moskovski during the 11-th Annual Conference "Strategic infrastructure and investments, Bulgaria in connected Europe 2016" organized by the City Media Group. "I believe that when the system starts operating, cargo flows will be distributed among ports, railways and heavy road traffic", he said.
"Since the first term of office we follow a consistent policy to develop transport infrastructure which is within the management of MTITC" said Ivaylo Moskovski. "We use the European funds to construct road and railway infrastructure and for the development of intermodal transport and the Sofia metro. Concessions are another mechanism that we apply primarily to airports and ports", he added. The Minister said that on April 15 enters into force the new European Directive on concessions and is yet to be introduced to the National Assembly the new Law on Concessions. According to him, it extends significantly its scope of action and allows completely new parameters for future concessions. The current law stipulates a maximum concession period of 35 years, while the new amendments provide for these restrictions to be abolished. Changes in legislation will allow much more flexible relationship between the grantor and the concessionaire, so as to be achieved effective cooperation in mutually advantageous terms.
"In short terms our main task is to announce the procedures for the concession of the Sofia Airport and the Plovdiv Airport, as I hope to find strategic investors for both sites," said Moscovski. Within two weeks is expected to be discussed by the Council of Ministers the proposal for awarding a concession of the airport in Sofia and tomorrow will be discussed the concession of the airport in Plovdiv. The Minister added that soon will be launched procedures for port Vidin - South, port Rousse - East and port Rousse - West.
"The design of the intermodal terminal in Varna is in its final phase and at the moment are carried out studies for the construction of the terminal. The Intermodal terminal in Plovdiv will be completed by mid-year", pointed out Minister Ivaylo Moskovski. He added that in terms of railway infrastructure it is working with priority in the direction from the Serbian border to Bourgas and from the Serbian to the Turkish borders.