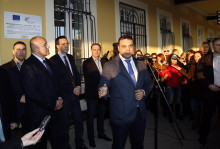 Just within a year over 100 million levs have been invested in the "Transport" sector in the region of Bourgas. That was stated by the Minister of Transport, Information Technology and Communications Ivaylo Moskovski during the inspection of the renovated railway station in the city. The inspection was attended by Prime Minister Boyko Borissov, Mayor of Burgas Dimitar Nikolov, Director General of National Company "Railway Infrastructure" Milcho Lambrev.
During the opening ceremony Minister Ivailo Moskovski said that Bourgas is the only city with such a well-developed transport infrastructure. "We discussed together with the Mayor of the city Dimitar Nikolov the design of the railway connection to Sunny Beach. Within a month the project will be ready and in case the financing is provided, we shall launch it. Thus, will be significantly reduced traffic to the resort, which is very intense in the summer", he said.
"It is due to start the construction of the Bourgas railway junction, which will provide access to the airport," said Ivaylo Moskovski. He added that thus tourists and city residents will have convenient connections with the bus station, the railway station and the airport.
The renovation of the Bourgas railway station is a part of the project "Rehabilitation of railway stations along TEN-T network" and was implemented with funds under Operational Programme on "Transport" 2007 – 2013. The contractor of construction works is OCAC "Railway Infrastructure Bourgas".  The contract amounts to 7 926 367.90 levs without VAT (10 % contingencies). The construction supervision is carried out by the Consortium "Rubicon - En Ar 1" and the value of the contract is 186 964.00 levs without VAT (10 % contingencies). After railway station Pazardzhik, this is the second railway station modernized with European funds. By the end of March this year will be completed the Sofia Central Railway Station as well. Within the project has been completely renovated the building, has been built a new trade zone, has been restored the clock tower and have been preserved all Neo-Baroque elements of the building.