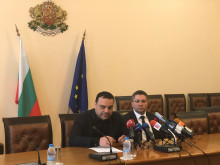 Two teams of EA "Automobile Administration" are at the scene of the accident with a bus on "Trakia" motorway and another team of inspectors has been sent to the office of the transport company "Union Ivkoni". This was announced by the Minister of Transport, Information Technology and Communications, Ivaylo Moskovski in a joint briefing with the Minister of Regional Development and Public Works Nikolay Nankov. The two ministers expressed condolences to the relatives of those who died in today's accident.
The experts of EA "Automobile Administration", who are at the scene of the incident, carry out technical expertise together with the investigative bodies, Minister Moskovski also said. He cites the inspection data up to now. The bus has a technical roadworthiness certificate, the technical inspection is dated of February 6, 2018, and we have videotapes of it. The EA "Automobile Administration" team, which was sent to the company, found that the bus had a valid roadmap with two drivers enrolled for the route, one of them was driving at the time of the incident. It has valid qualification and psychological fitness cards as well as a valid digital card that records the driver's working time.
From the data we have now, it can be assumed that it is a road accident involving another vehicle, said Minister Ivaylo Moskovski. In response to a journalistic question about the use of safety belts in buses, Minister Moskovski specified that still there are buses that are not equipped with belts and it is impossible for them. The mandatory use of belts is in the amendments to the Road Traffic Act, which will be announced for public discussion on April 23.
The road infrastructure is not the cause of today's accident at "Trakia" motorway, said the Minister of Regional Development and Public Works, Nikolay Nankov. He announced that an analysis of the characteristics of the section showed that it was in good condition in terms of asphalt coating, markings and crash barriers.
The Minister pointed out that the Road Infrastructure Agency and the road maintenance company "Avtomagistrali" EAD, along with the Road Police and the Fire Department, provided maximum access to 14 ambulances for the victims of the accident.
At 12.00 Road Infrastructure Agency started the unblocking of the motorway, initially with the redirection of the traffic through the by-pass route on I-8 Ihtiman-Vakarel-Novi Han. At 13.30 the crash barriers are cut in order to ensure a reversible movement in one carriageway and to start the "unblocking" of the 7 kilometer column from km 27 to km 34 of "Trakia" Motorway, informed Nikolay Nankov. It is expected the motorway to be free for vehicles by 5 pm today, the regional minister said.