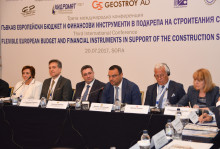 We start talks with the Ministry of Economy to constuct an intermodal terminal in the Industrial Zone "Bozhurishte", announced the Minister of Transport, Information Technology and Communications Ivaylo Moskovski at the conference on "Flexible European Budget and Financial Instruments in Support of the Construction Sector", organized by the Bulgarian Construction Chamber and "Stroitel" newspaper.
Moskovski pointed out that he had held a meeting with the Minister of Economy Emil Karanikolov, during which they explored opportunities on joint realization of the project by the two Ministries. "Expert level meetings are held between the National Railway Infrastructure Company and the National Company Industrial Zones EAD to discuss the project in details", the Minister added.
In Industrial Zone "Bozhurishte" more than 30,000 jobs will be generated within the next few years, which is another prerequisite for constucting such a facility, the Minister said. He added that there is also an ongoing discussion on the linking of the zone with the metro or the S-trains, both Ministries being ready to work in this direction. "We plan to implement a feasibility study and technical design for the terminal by means of OP on "Transport and Transport Infrastructure" and then we will look for suitable forms of financing for the construction", explained Moskovski.
The other joint project discussed with the Ministry of Economy is the construction of an intermodal terminal in Vidin. It has also proved as worthwhile project because the Danube city has a built-up industrial zone.
Regarding the debts of the Bulgarian State Railways the Minister pointed out that a meeting with creditors on the bond loan will be held next week. There are plans for all financial obligations to be repaid by the end of next year.