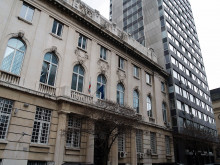 I relation to the situation at the Bulgarian-Greek border in the Ministry of Transport, Information Technology and Communications was held a meeting between the leadership of the institution and the Ambassador of Greece Dimosthenis Stoidis.
During the talks the Bulgarian side expressed the position of strong anxiety because of the difficulties facing Bulgarian hauliers crossing the Bulgarian-Greek border. The Bulgarian side pointed out the existence of serious obstacles for hauliers at the Kulata – Promahon border crossing-point where the Greek protesting farmers do not abide by the previously announced protesting time, unlike the protesters at the Ilinden – Eksohi border crossing point. The closure of the border causes serious obstacles to free movement of goods and people, for this reason the leadership of the Ministry of Transport, Information Technology and Communications asked the Ambassador persistently to be ensured a transit transportation corridor.
The Ambassador of Greece in Sofia Dimosthenis Stoidis emphasized that this is the first meeting at which the Bulgarian authorities address the Greek side officially regarding the blockade of the border crossing-points. Concerning the requests made by the Bulgarian side, he expressed anxiety about the fast resolution of the problem. In his words, until Thursday (4 February 2016) will be hard to be found a solution because then is envisaged a general national strike.