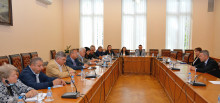 The Caretaker Minister of Transport, Information Technology and Communications Georgi Todorov met with representatives of the bus branch. In the framework of the talks, the main issues facing the bus sector were discussed.
Minister Georgi Todorov stated that the assistance of all competent authorities will be sought for the restriction of the unregulated transport of passengers by cars. "Necessary actions will be taken to strengthen control over unregulated passenger traffic. I have ordered the management of the Road Transport Administration Executive Agency to create the necessary organization for carrying out specialized inspections, especially in the areas of airports and border checkpoints", Georgi Todorov said.
Regarding the transportation of tourists by cars and the proposals to regulate this activity, the Minister stated that he expected a meeting to be held as soon as possible gathering together experts from the Ministry of Tourism, the Ministry of Transport, Information Technology and Communications and business representatives, to discuss this issue.
Amendments to Ordinance № 2 on the terms and conditions for approval of transport schemes and for public transport of passengers by bus were also discussed. It was agreed that the texts of the ordinance would be discussed in a working group at expert level, with the participation of branch representatives and, if necessary, clarified.
Possibilities for support of the sector by the state were also discussed. Minister Georgi Todorov said that the possibility of providing European funding through operational programs would be studied.