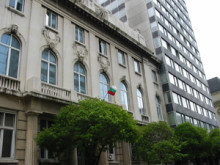 This is the largest procedure launched under the Recovery and Resilience Plan. The deadline for receipt of proposals from all interested parties is 30 June 2022. The total number of proposals received across all 5 calls is 32.
This type of market research is being conducted for the first time by the Ministry of Transport and Communications, and its goal is to achieve maximum transparency and efficiency in the use of public resources, as well as to attract the best Bulgarian and international companies to participate. "We will take full advantage of the opportunities that the Public Procurement Law gives us to acquire the most modern and safe trains and equipment under the best conditions - both in terms of price and technology", the Minister of Transport and Communications Nikolay Sabev said.
By the deadline, some of the world's largest manufacturers and suppliers of rolling stock and on-board equipment have submitted their indicative proposals: Alstom, CAF, Hyundai Rotem, PESA Bydgoszsz, Siemens Mobility, Skoda Transportation, Stadler Rail, FPS Poznan Fabryka Pojazdow Szynowych, KONCAR-Electric vehicles Inc., Thales, Talgo, Express Service, Vossloh Locomotives GmbH, CZ LOKO a.s. and CRRC Corporation Limited.
After a detailed study of all proposals, MTC will shortly announce public procurements under the five calls for a total value of BGN 1.7 billion. It is expected that by the middle of 2026, Bulgaria will have a renewed railway fleet of the latest generation.
By order of Minister Nikolay Sabev, the same approach will be applied by National Railway Infrastructure Company for both of the company's projects approved under the National Plan for Recovery and Resilience. They are for the construction of an intermodal terminal in Ruse and for the implementation of ERTMS, level 2, in Ruse - Kaspichan Railway Section. Normal 0 21 false false false BG KO X-NONE /* Style Definitions */ table.MsoNormalTable {mso-style-name:"Table Normal"; mso-tstyle-rowband-size:0; mso-tstyle-colband-size:0; mso-style-noshow:yes; mso-style-priority:99; mso-style-parent:""; mso-padding-alt:0cm 5.4pt 0cm 5.4pt; mso-para-margin-top:0cm; mso-para-margin-right:0cm; mso-para-margin-bottom:8.0pt; mso-para-margin-left:0cm; line-height:107%; mso-pagination:widow-orphan; font-size:11.0pt; font-family:"Calibri",sans-serif; mso-ascii-font-family:Calibri; mso-ascii-theme-font:minor-latin; mso-hansi-font-family:Calibri; mso-hansi-theme-font:minor-latin; mso-fareast-language:EN-US;}