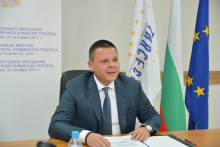 The Minister of Transport, Information Technology and Communications Hristo Alexiev assumed the Chairmanship of the Intergovernmental Commission TRACECA for the next mandate. The Bulgarian Minister participated in the 15th meeting of the Intergovernmental Commission for Development of the International Transport Corridor Europe-the Caucasus-Asia.
"Our main priorities are the removal of institutional and legal barriers to transport and international trade; the development of the railway and road sectors, rail-and-ferry transport communications; sea routes and multimodal transport. We would like to strengthen cooperation with the European Commission and international organizations, ensuring the harmonization of requirements and standards for various modes of transport", Minister Alexiev said in the framework the meeting.
The Bulgarian government had focused its efforts on building a modern railway and road infrastructure on the East-West Axis in order to create favorable conditions for the smooth movement of people and goods, Hristo Alexiev said. According to him, the prospects for the development of road and railway infrastructure along the route of the TRACECA corridor were related to the establishment of a fast, coherent and secure transport connection throughout Europe and on the South-East towards Turkey, Central and East Asia.
Efforts to further modernize Bulgaria's two largest Black Sea ports, Varna and Bourgas, continue, using both public and private sources, the minister added. He pointed out that these ports were essential for ensuring fast and reliable sea transport between the TRACECA countries.
The meeting was attended by ministers and other heads of delegations of the transport sector from member countries of the Basic Multilateral Agreement on International Transport for the Development of the Transport Corridor Europe-the Caucasus-Asia (TRACECA), observers, representatives of international organizations and program partners.