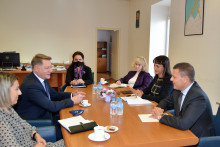 One of the major challenges of the newly adopted Posted Workers Directive was that each country had different requirements. This is what the Minister of Transport, Information Technology and Communications Hristo Alexiev stated at a meeting with the Executive Director of the European Labor Authority (ELA) Cosmin Boiangiu. In this regard, Minister Alexiev requested assistance from ELA to provide transparent information available online for the specific requirements of each country.
"International transport companies will have to comply with different rules of labor law for each country. The new regulations will require the hiring of additional lawyers and accountants, and 90 percent of Bulgarian companies for international road transport are small businesses and cannot afford this cost", the Minister explained.
The Bulgarian side filed complaints for filing lawsuits regarding the repeal, in part or in full, of the three legislative acts of the Mobility Package I, Hristo Alexiev pointed out.
At the same time, we are making every effort to lobby the EC for the presentation of a legislative proposal that would provide for the complete deletion of the text for the return of the vehicle, Minister Alexiev said.
As part of the preparation for supporting the industry in the implementation of European regulations, a working group had been established with the participation of Road Transport Administration Executive Agency and the General Labor Inspectorate, Hristo Alexiev informed.