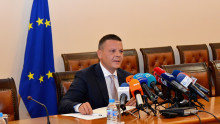 I will not allow the case of the stranded ship near Kamen Bryag to be used for sabotage of the State by pre-election party interests, lobbyists and representatives of the administration. This is what the Minister of Transport, Information Technology and Communications Hristo Alexiev stated at a briefing today. He announced that he had issued an order for the release of the Executive Director of the Maritime Administration Executive Agency, Captain Zhivko Petrov. The main reason was an uncoordinated deviation from the pre-approved load release technology. At the same time, Hristo Alexiev pointed out that the international regulations for actions in such situations had been fully complied with.
The new director of the Maritime Administration is Captain Ventsislav Ivanov, Master Mariner. He headed the structure from 2004 to 2007. With this appointment, according to the Minister, continuity in the work of the Administration will be ensured.
Five scenarios are being prepared for the release of the cargo from the vessel, the Minister explained. Whatever technology was chosen, it would be agreed in advance with the Ministry of Environment and Water. "We are in contact with several international marine salvage companies and we expect proposals for action from them. Depending on the meteorological conditions, the options for transporting the cargo by a conveyor or helicopter remain", Hristo Alexiev explained.