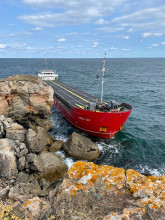 It is important that the cargo of the ship Vera Su stranded near the area of Yailata be safely unloaded, the Minister of Transport, Information Technology and Communications Hristo Alexiev said at a briefing of the National Crisis Group. Prior to that, the General Director of Emergency and Rescue Activity DG in the Maritime Administration - Varna Rumen Nikolov informed that the vessel was stabilized and was in a horizontal position.
The load is not dangerous, but no technology should be used that could lead to pollution. That is why we must act in a structured way, step by step, Minister Alexiev announced.
There are three main tasks for the day - a new diving inspection of the ship, draining part of the fuel to prevent spillage and taking testimony from the Prosecutor's Office of part of the crew, Hristo Alexiev said.
The National Crisis Group reported that the draining of the fuel from the vessel continued, but quantities will be kept to maintain the run of the machines. An underwater inspection of the ship was forthcoming and an attempt would be made to plug the breach. In the coming 2-3 days, additional barges were expected to arrive to assist in unloading the cargo.
"We get exceptional assistance from the crew, who helped drain the water from the vessel," Nikolov said.
Adequate actions for environmental protection have been identified. A border boat will be sent today to take down part of the crew on land in order to take testimony as part of the investigation, which began on September 21, according to announcements at the briefing.