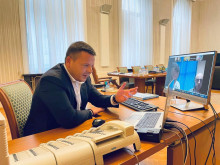 The insurers of the stranded near Kamen Bryag cargo ship Vera Su took the commitment to reimburse the already incurred, as well as the future actual expenses of the Bulgarian side. This is what the Minister of Transport, Information Technology and Communications Hristo Alexiev announced at a video conference with representatives of Maritime Administration Executive Agency and reprsentatives of the local crisis management unit.
"Since the beginning of the salvage operations by the State, the waves in the area have not fallen below 2-3 points on the Beaufort scale. In reality, the weather conditions allowed us to work on the ship for only 3 days, taking huge risks", the Executive Director of the Maritime Administration Captain Ventsislav Ivanov said at the meeting. He added that in the few days, favorable from a meteorological point of view, the necessary diving inspections were carried out, access to the ship was provided, more than 30 tons of fuel and lubricants were drained, about 300 tons of cargo were released, a fairway was built for safe approach of technical and navigable means to the ship, the vessel was reinforced with anchors and ropes so as not to be destroyed by the collision with the rocks and the entire crew was evacuated.
"Representatives of the salvage company told me that was a very complex operation, for which they did not take guarantees within a reasonable time", Minister Alexiev said, which showed that the coordinated actions of the Bulgarian institutions were the best solution at that moment. "I want to thank all the participants so far in the rescue operation and to emphasize once again that there is no delay on the part of the Bulgarian State. The work that was done within these 3 days is huge and was the most adequate solution in the current situation", he explained.
From now on, the ship would be unloaded, the breach in the hull would be strengthened and the vessel would be taken out. During the videoconference session, all possible scenarios of future actions, in relation to the weather conditions, as well as all actions for protection of the interests of the Bulgarian State were discussed.