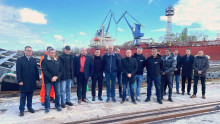 When the State acts adequately, plans properly and relies on its people, it can push itself off the bottom. This is what the Minister of Transport, Information Technology and Communications Hristo Alexiev stated at a briefing on the occasion of the successful operation to release the cargo ship "Vera Su" from the Yailata area.
"Bulgaria is the only European maritime country that does not have a salvage ship and equipment. The rescue ship Perun was scrapped last year. And now we had to make a rescue mission from scrap", Minister Alexiev said. We managed to rescue the crew, save lives in this complex operation and in bad weather, unload the ship and protect the environment, human health and livelihood, he added. According to him, the ship was revived given that the owner of the vessel was working in the opposite direction - to sink this ship.
"What I found was disintegration and irresponsibility, people were not prepared for such operations. While we were planning, we had to repair equipment that was in a very bad condition. Talks were held with companies who said that in those severe weather conditions and at that time of year, they would not undertake the operation. We had talks with the Romanian side as well", Hristo Alexiev said. He thanked the people who worked during the whole operation - 36 hours, 48 hours, in several shifts.
Minister Alexiev informed that following some talks, the insurers would bear the costs incurred by the State, and the amount was being currently calculated.
From that moment on, we would work on reviewing the waterways so that they were not so close to the shore. Clear procedures would be made, changes in legal acts would be initiated and ideas on how Bulgaria got prepared to provide marine rescue equipment would be discussed, the Minister added.