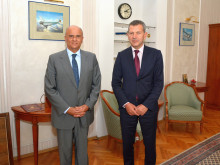 Minister of Transport, Information Technology and Communications Georgi Todorov discussed with the Ambassador of Greece to Bulgaria Dimitrios Chronopoulos the opportnities for improving traffic and free movement of people and goods through the border crossings with our southern neighbor. The Minister said that the queues at the borders make suffer not only the business, which loses real money, but also people who have to stay in cars and heavy motor vehicles in these temperature conditions.
The ambassador assured Minister Georgi Todorov that the Greek side has taken the necessary actions to facilitate the crossing of the borders between the two countries and expects the normalization of traffic by the beginning of next week.
Dimitrios Chronopoulos  informed Minister Georgi Todorov that 3 mobile teams and 34 additional law enforcement officers would be situated at the Kulata-Promachonas border crossing point from the next day onwards. The Ilinden-Exochi border crossing point would be opened next day. He pointed out that Greece is opening two new border crossing points with the Republic of Northern Macedonia, which will also help reduce traffic through Kulata–Promachonas.
Minister Georgi Todorov raised the issue of increasing the working hours of the Makaza-Nimfea border crossing point from 7 to 24 hours. This opportunity will be considered by the Greek side.