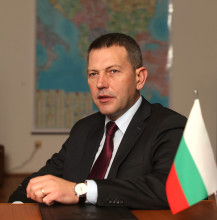 Bulgarian Internet users are active in the registration of pan-European domains with .eu and .eю extensions. This was commented by the caretaker Minister of Transport, Information Technology and Communications Georgi Todorov on the occasion of the 5th anniversary of the Internet field "eю".
The Bulgarian population represents only about 1.5 percent of all residents of the European Union, but domestic consumers have registered 5 percent of internationalized European names, he added.
According to the EURid registry, the total number of registered domains with the three European domain extensions .eu, .eю and .ευ reaches 3,715,818, of which 37,265 are in Bulgaria. They reported growth of almost 10% for the last quarter of 2020. Nearly a third of the websites that are under European domains are trade and production oriented.